Jewelry Repairs
We understand how precious your jewelry is to you. So when your prized possessions are in need of repair, look no further than to the on-site experts at RAYBAR. From minor adjustments to complete restorations, our 55 years of combined experience will assure that your jewelry will be repaired to the highest standards. We guarantee it.
Before & After
Jewelry Repair FAQ
All repairs are performed in our workshop by Drew and Jerry. At Raybar, you won't have to ask to "speak with the jeweler." From take-in to pick-up, we deal directly with our clients. We can't say the same for the competition.
How long do repairs take?
Most repairs are completed the same day. Minor adjustments are made-while-you-wait. Complicated repairs or those requiring additional parts can take a few days – a week at the most.
How much do you charge for?
It varies. Usually, we have to clean and examine jewelry before giving a firm quote. We may be able to give you an estimate over the phone or by email. But, it's best to stop by. It only takes a few minutes to clean, inspect and provide a free, no-obligation quote. All the while, you could be enjoying a complimentary cup of coffee/tea and maybe some candy, if there's any left…
Are your prices competitive?
Yes. Often we're the least expensive option out there. Sometimes we're not. Nevertheless, we believe that we offer the best value to our clients. You see, most local jewelers subcontract their repair work to an undisclosed, high-volume repair shop, or they might have an on-site, often inexperienced technician who needs the practice. So, while the price may be less elsewhere, ask yourself why is it cheaper? Here are some questions to consider when choosing a jeweler:
Can you meet face-to-face with the person repairing your jewelry?
How much experience does he/she have?
Does the jeweler guarantee their work in writing?
Can you see actual photographs of their workmanship and not just some "stock" photos from the internet?
Will they devote enough time to ensure professional standards?
What if there is a problem? Do you have to pressure them to "do the right thing?"
Why is my white gold discolored?
Most white gold alloys used in jewelry are naturally brownish/yellowish in color. Because of this, 99% of all jewelry manufacturers "whiten" their jewelry through a process known as Rhodium-plating. Rhodium is a precious metal that provides an extremely "white" color when electroplated onto the surface of gold. The result is a more appealing color tone, similar to fine silver. However, there are drawbacks to rhodium plating: Since the plating is only microns thick, Rhodium-plating isn't permanent. The plating will wear off, particularly in areas where jewelry is subject to rubbing or scratching. As such, the plating should be repeated every 8-12 months or whenever your jewelry loses its consistent coloring.
Can you rhodium plate yellow gold?
Yes. Yellow gold can be rhodium plated to appear as white gold. The plating itself is only microns thick. So, in the case of rhodium plated yellow gold, it becomes even more apparent when the plating wears off as the metal resembles a patchwork of yellow/white. Regardless, it is still a cost-effective way of "changing" yellow to white gold without the expense of recreating a new ring in the desired metal tone.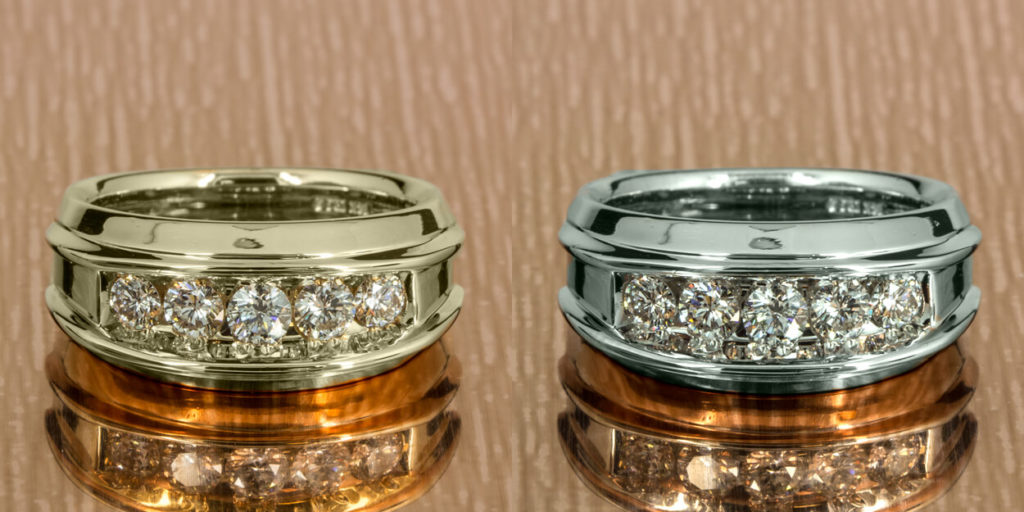 Do you offer free cleanings?
Yep. We'll clean and inspect your jewelry, regardless of where purchased. Depending on the metal, we may be able to give it a quick polish at no charge.
How do I clean my jewelry at home?
Mix up warm, soapy water and grab an old toothbrush. Lightly brush, rinse, pat dry, and repeat as needed. That's how we clean the most delicate jewelry in our shop. Of course, we also have an industrial-strength ultrasonic and steam cleaner, but you'd be surprised what a gentle scrub can do in between professional cleanings.
Always start with the gentlest cleaning method: Warm, soapy water and a toothbrush. Rinse. Pat Dry. Next step: Purchase a polishing (rouge) cloth and gently rub, turning the cloth frequently. For chains, pinch the chain between the cloth and pull while releasing the pressure with your fingertips.
We advise for you to avoid most chemical dips or cleaners on the market. They are typically far too abrasive and caustic, and while they may appear to work, you'll discover that the silver will lose its luster and tarnish faster between cleanings. Why? While the dips chemically remove tarnish, they will also damage the silver itself. These chemical solutions will "pit" the surface leaving microscopic cavities that trap even more of the gasses and moisture that cause tarnish to occur.
If you're interested in learning even more about silver and its care, we highly recommend visiting the site of Jeffrey Herman. You will find a vast amount of practical information from one of the most respected Silver Restoration Experts in the world.
I've lost one of my earrings, what are my options?
We can quote to create an identical match to the remaining earring. We've created numerous near-perfect matching pairs for our clients. If the replacement is too costly for you, we could convert the single earring into a pendant or remount the stone into a ring. There are multiple options available to you; we'll be sure to discuss each possibility.
Can you size a ring with a lot of stones?
Just about any precious metal ring can be re-sized. We've sized thousands of rings to both extremes. We have the expertise to handle virtually any precious metal ring sizing. Rest assured if we can't properly size your ring; no one can.
My jewelry is missing a stone, can you replace it?
Yes. Whether you need to match a side /accent diamond or gemstone or replace a missing center gem, we handle all sorts of restorations and will resolve whatever issue resulted in the original to fall out.
Do you always add metal when sizing rings larger?
No. Not always, but it is preferred when sizing rings 1/2 size or more. Sometimes, a ring can be lightly hammered up, distributing the hammering evenly, on a ring mandrel without creating distortions or thinning the ring shank dimensions. Some jewelers might argue that the ONLY proper way to enlarge is to add. That is nonsense. To make a ring larger, a jeweler must cut the ring at the bottom of the shank, open the ring to the new size, cut a piece of sizing stock, bend the new piece to fit, solder, file, sand, and polish. Even the best jewelers in the world can't blend a new sizing insert to the existing shank WITHOUT losing some thickness or width. Besides, unless the sizing insert is welded into place, you now have two sizing seams that may separate, depending on how well they're soldered together.
How can I prevent my ring from spinning?
Depending on the size difference between the knuckle and the back of the finger, there are many solutions to help you obtain a comfortable fit. From simple "sizing beads" to more complicated shank mechanisms, we'll help you weigh the options so you can make an informed decision.
How do I remove a ring that's stuck on my finger?
Assuming there's no medical emergency, you should always start with the safest method first:
Raise your ring hand (like you're asking a question in school) for a few minutes so that any excess fluid will drain from your fingers. Grab a bottle of glass cleaner (Windex works great) and squirt a little bit onto the ring and your knuckle. Capillary action should help the Windex get in between the ring and finger, where it will act as a lubricant. Next, take a paper towel (helps with gripping the slippery surface) and grab the ring with your free hand. Twist the ring as you gently try to pull it off your finger.
If that doesn't work, don't fret. You can try putting your hand in ice water for a few minutes and repeat the process, however, don't try more than a few times within a short period. Even this seemingly safe method is likely to irritate your finger and cause further swelling.
If the previous "gentle" method doesn't work, try the following video tutorial on YouTube.
Worst case: We may be able to cut the ring off your finger with a diamond rotary saw, but that's after all other methods are attempted!
How can I be sure that my diamond won't be switched?
As much as the media would have you believe it, instances of jewelers swapping diamonds are rare. We've heard stories, too. A few rotten apples in the industry tarnish the reputation of everyone else. Nonetheless, you have every right to be apprehensive when choosing a jeweler. So, how can you be sure? Here's our advice: Know your stone and trust your instincts. In recent years, an increasing percentage of center diamonds are etched with microscopic inscriptions on the girdle (edge) of the diamond. The inscriptions are most likely serial numbers that correspond to a gemological labs' grading report number. If you know that your diamond has a laser inscription, just ask to view the diamond under a microscope and verify the number when picking up the repair.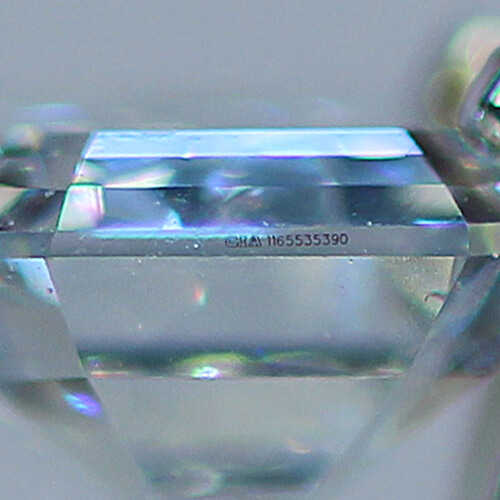 What if my diamond isn't laser-inscribed?
Not all diamonds are laser inscribed. Some lab-graded stones only have a "plot" diagram instead of a laser inscription on the grading report. It will illustrate the type, position, and approximate size of your diamond's clarity characteristics.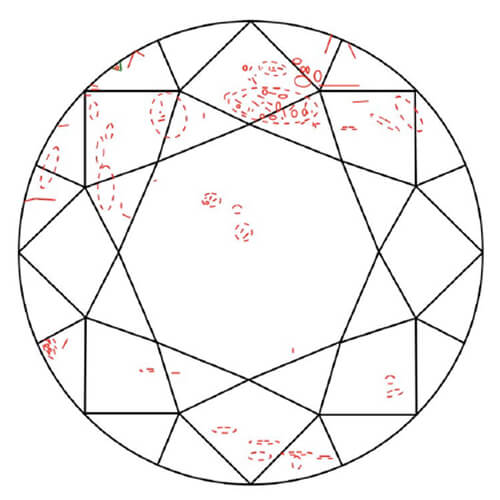 What if my diamond is neither laser-inscribed nor plotted?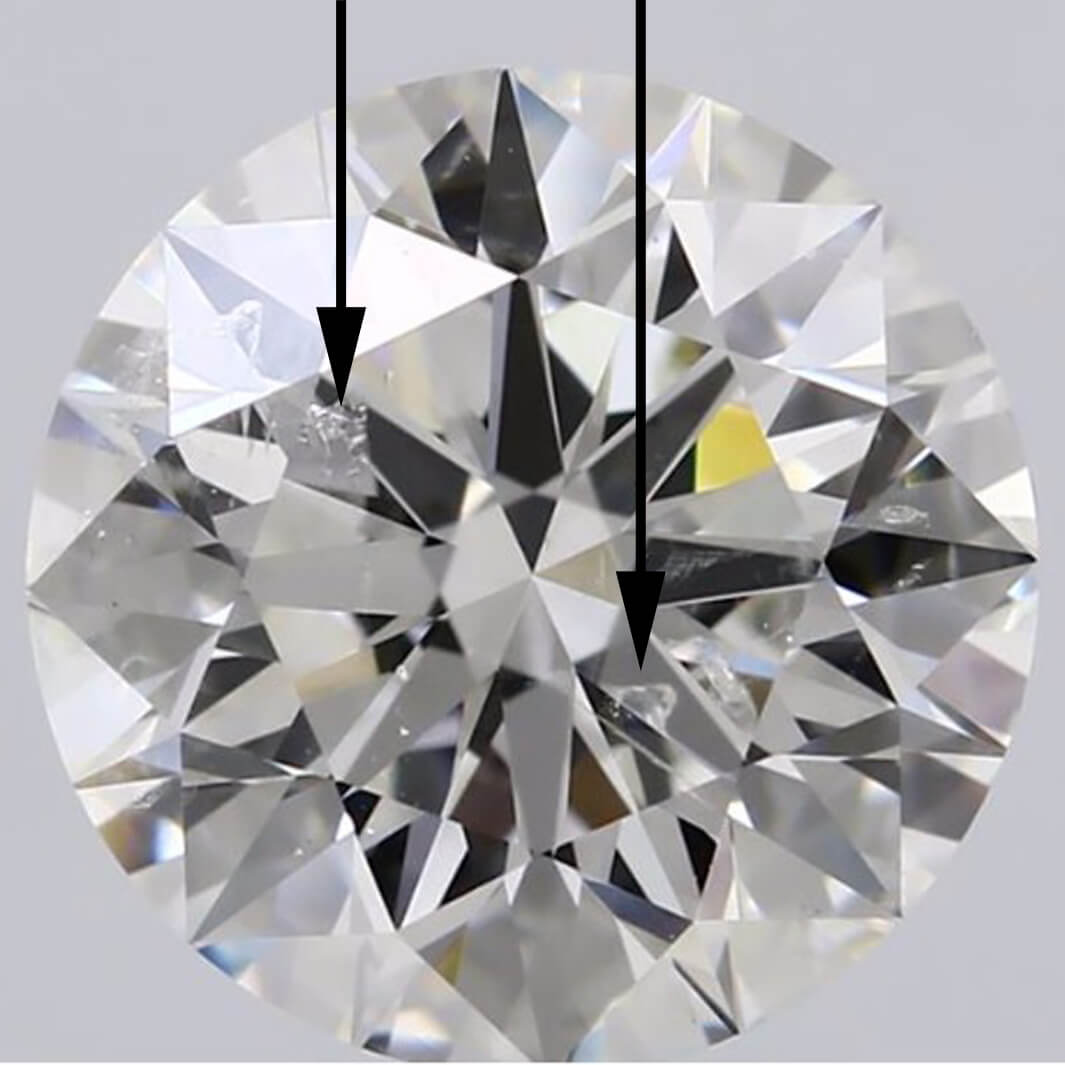 At the very least, ask your jeweler to examine the stone for a particular, internal characteristic that YOU can recognize and remember. When your repair is ready, have the jeweler show you the same characteristic to verify. Pictured above shows a round brilliant diamond with a couple of inclusions that should be easy enough for most clients to recognize.
Caution: Please be aware that certain, higher clarity diamonds will not have readily identifiable inclusions that can be useful in identification. Also, know that diamonds can look radicallydifferent once cleaned, so keep that in mind.
If you are still apprehensive, then you have a couple of options:
Consider having your diamond appraised by an independent jewelry appraiser or obtain a grading report from a reputable gemological lab (GIA or AGS). Most diamond documentation performed by such labs will have an option of laser-inscribing your diamond with the certificate number and even a personalized message!
Have your jeweler measure and notate your diamond's dimensions in millimeters and make sure it's printed on the repair paperwork. Double check the measurements at pick-up. While not as assuring as an inscription or "plot" comparison, it's, at least, some level of scrutiny.
Repairs are trust-sensitive. Check independentreview sites (Google, Yelp, Etc) to see what complaints, if any, a local jeweler might have against them. While reviews are not always 100% accurate and some may be fake or exaggerated, you can usually see if a business has a pattern of negligence or deceptive practices.
Bottom line: If you get a bad feeling about a jeweler, don't use them. There are plenty of reputable craftspeople to choose from in today's competitive market!